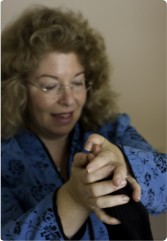 Lori came to RSM with a Masters and a PhD in Social Work, and over 25 years of experience in the mental health field. She has a certificate of specialization in gerontology and special expertise in wellness, recovery, self-care and resilience. Lori is an adjunct faculty member at the Rutgers School of Social Work and a Certified Laughter Leader. She is a member of the collaborative holistic practice of Dr. Wendy Warner at Medicine in Balance, LLC.

As a professional Synergist, Lori is known for providing a warm, accepting and safe environment for healing, self-discovery and personal growth. She loves assisting each client in discovering the connection between their emotional and physical experiences and the wisdom of their body-mind. She is committed to being completely present with each client as she guides them in becoming aware of the memories and messages stored in their bodies. Lori encourages, supports and celebrates with her clients as they begin to make choices with ease, change habits that don't work for them anymore and move with confidence in the world!

"I am honored to share the gift of healing and awareness that RSM can give. I delight as my clients open to life, to relationships and to their own vibrant, authentic selves during our work together!"
back to top

"RSM has helped me to be more centered and to take clues from my body. It has made me more sensitive to my instincts and helped me to become more peaceful."

S.G., Former Client



The body, mind, emotions and spirit are dynamically interrelated: Each time a change is introduced at one level, it has a ripple effect throughout the entire system.